IT Service Management FitSM
IT Service Management FitSM (APMG Accredited)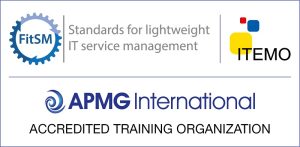 This IT Service Management qualification FitSM is accredited by APMG International. IPSO FACTO is an accredited training organisation of APMG licensed to deliver the FitSM qualification in the UK and rest of the world. The FitSM qualification came from the need for a light weight IT Service Management product that challenged existing options. It was developed in Europe by ITEMO with detailed information about FitSM found on their https://www.fitsm.eu/ website.
---
What is IT Service Management FitSM?
There are 7 elements
Define the Rationale
Define the rationale for implementing service management and get top management commitment and support.
Roles and Responsibilities
Identify and assign roles and responsibilities for planning and implementation.
Focus on the Team
Ensure training and awareness.
Assessment and Review
Perform an initial organisation maturity assessment comprising a review of the service portfolio; and federation model if applicable.
Goals and Milestones
Define a service management plan with overall scope of the SMS, goals and milestones including selection of initial tools.
Policies and Procedures
Start defining policies, activities and procedures for each process.
Review or Audit
Re-assess progress through formal reviews or audits (e.g. annually)
---
Why should you choose IT Service Management FitSM
FitSM is applicable to all types of organisations (commercial, government, non profit organisations) from which IT services are provided regardless of type, size and nature of the services delivered.
---
How does IT SM FitSM compare with other IT Service Management products
---
Certification Options for FitSM
IT Service Management FitSM Certification Foundation level
IT Service Management FitSM Certification Advanced level
IT Service Management FitSM Certification Expert level