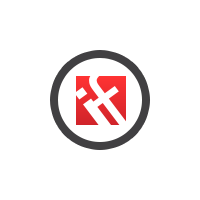 MoD Regular and Reservists Certified training using SLC funding
Posted on: 27th November 2020
Use your SLC's to fund a Project Management Qualification
We will shortly email course materials and joining instructions to those who've completed their SLC application form and paid IPSO FACTO.  3/3/2021
---
Project Management Qualifications PFQ, PMQ, PPQ
Are you thinking about your career development Career path
---
Confirmed course dates
1st course: 16th and 17th March 2021 – 9am to 4:30pm
2nd course: 18th and 19th March 2021 – 9am to 4:30pm
---
Reserve a place – step 1…
Contact us on 01489 588453 or email: tim@ipsofacto.uk.com with your name, email and telephone number to reserve a place.
Once confirmed to run you'll be sent an invoice for payment for the training part of the qualification. [First SLC]
On receipt of payment you'll be sent joining instructions and course materials.
A couple of days before the course start date you'll be sent an invitation to join the course using Adobe Connect. All instructions will be provided and support will be at hand.
A course attendance certificate will be emailed to you on completion of your training.
Contact us to book your exam and we'll invoice you for the exam. [Second SLC]
On receipt of payment your exam will be booked and a link for the exam will be emailed to you.
We're here to help throughout.
---
Don't miss this Opportunity
This is an opportunity for both ARes & Regular personnel to use their Standard Learning Credits (SLCs) on the above course and gain entry standard qualification into Project Management.
"This course is something that I have signed up to do…one because Project Management interest me. Secondly, probably like almost everyone – I have used SLCs once in the 10 years or so it been running for…with SNIY looking to drive CAPDEV (up skilling individuals forms part of that) then this qualification could provide opportunity for both civilian employment and being more effective within the military." Ant Pennicott WO2, Scottish and North Irish Yeomanry.
This course would normally cost £930 (including exam costs). Engagement with IPSO FACTO (course provider) personnel could achieve this full qualification for £470.
You could complete this qualification by paying £470 (reclaim £175 max SLC per year) = £295.
APM PFQ training cost: £240/person
APM PFQ exam cost: £230/person. Recommend not sitting exam if going to complete the PMQ qualification. 
How I am going to complete this qualification:
Use SLC this year (before Apr 21) for APM PFQ training cost: £240/person (individual cost: £65).
Use next year's SLC (Apr 21 – Apr 22) for APM PFQ exam cost: £230/person (individual cost: £55)
Total individual cost = £120
Course authorisation & reclaim SLCs
Get PSA – SLC application form signed off (electronically) by your relevant AEC (details contained within are for this qualification) once course dates confirmed. I had this authorised within 5 mins of sending the email with attached form.
Complete the relevant qualification/course.
Once qualification/course complete – hand in copy of course certificate/completion with the signed authorisation form. £175 reclaimed through JPA via Admin Dept.
PSA – SLC Application Form.
Points to note
Course delivery is live online virtual classroom for 2 days. When we get out of lockdown classroom based courses will be an option.
Exam (online) can be completed at any time after the course completion. It consists of 60 questions (multi-choice) within 60 mins.
Course has to be paid upfront and SLCs reclaimed. Like every course completed with SLCs.
For the course provider to be able to offer this discount they require a min of 10 people per course.
If interested – please contact your education centre or Tim on 01489 588453 to reserve a place.
---
APM PFQ Infographic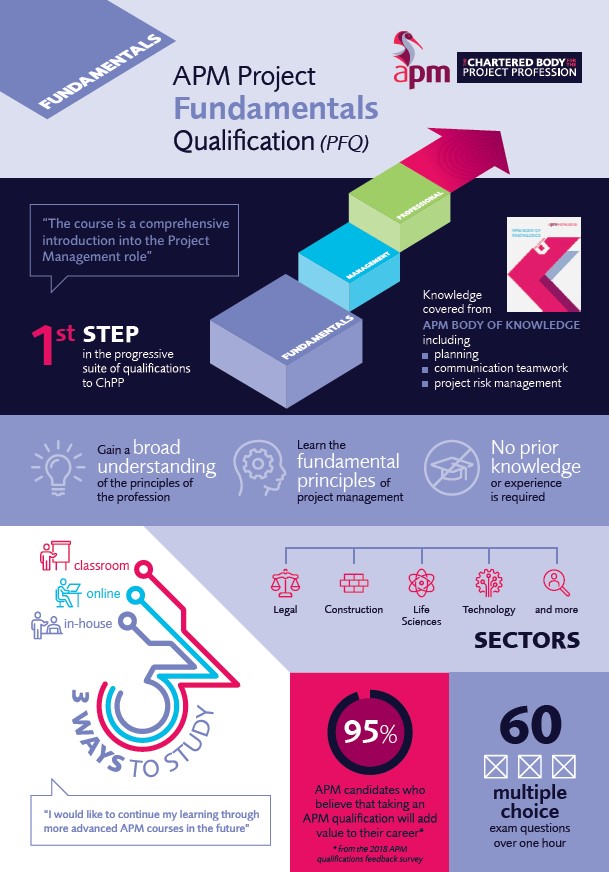 Contact Tim: 01489 588453 or email: tim@ipsofacto.uk.com
Back