Enhanced Learning Credits | ELCAS
ELCAS Funded Project Management courses for Resettlement
---
COMBINE QUALIFICATIONS INTO A BUNDLE
LIVE VIRTUAL CLASSROOM TRAINING
Choose a preferred bundle, then click "course dates" for each course from the single courses below
Book a Bundle, stating course titles, course start dates and include your contact details
News update
APM PMQ is now 5 days training + 5 days consolidation then exam when ready
---
Bundled courses based on £2000 funding
APM Project Fundaments Qualification (PFQ)
PRINCE2® Foundation (P2F) + PRINCE2 Practitioner (P2P)
APM Project Fundaments Qualification (PFQ)
AgilePM® Foundation (AgF) + AgilePM Practitioner (AgP)
APM Project Fundaments Qualification (PFQ)
APM Project Management Qualification (PMQ)
PRINCE2 Foundation (P2F) + PRINCE2 Practitioner (P2P)
APM Project Management Qualification (PMQ)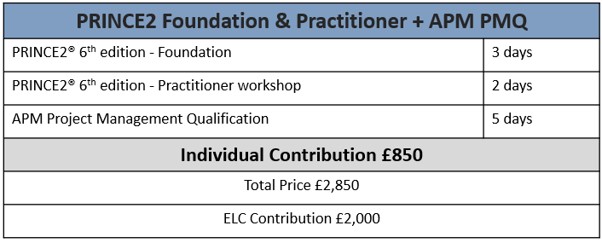 APM Project Management Qualification (PMQ)
AgilePM® Foundation (AgF) + AgilePM Practitioner (AgP)
Individual Contribution includes your 20% minimum contribution + handbooks and course materials not included in ELCAS funding.
---
Single courses based on £2000 funding
APM Project Fundaments Qualification (PFQ)

APM Project Management Qualification (PMQ)

PRINCE2 Foundation (P2F) + PRINCE2 Practitioner (P2P)

AgilePM Foundation (AgF) + AgilePM Practitioner (AgP)
---
Find us on ELCAS
---
Online Testimonials
---
Contact us
Reserve a place on our project management course(s) and then complete your ELCAS paperwork.
---
More contact details
Contact your Educational Staff, or the ELCAS Helpline 0845 300 5179.
If you've left the Services, go to the 'Service Leavers' page of the ELCAS website or contact your Single Service Representative, or the ELCAS Helpline 0845 300 5179.
---
FAQ's FOR ELCAS COURSES
For the most up to date answers please contact ELCAS or your resettlement officer.
Q1. Can I combine more than one course?
A1. Yes. You can combine any of the courses above. This means that you can use your full allowance to book more courses under one claim.
Q2. Are combination courses set or can I mix and match?
A2. You can mix and match to get the most out of your funding.
Q3. Do courses need to run sequentially and be within a set period?
A3. Not necessarily. However, to enable you to get the best benefit from your ELCAS allowances it is advisable to book your courses within the same ELC credit period.
Q4. If I book two courses, is it important which course I take first?
A4. No, but sometimes there are advantages to do so, for example: PRINCE2 before a PMQ. PFQ before a PMQ. Other wise its not important.
Q5. Is it advisable to book accommodation for the course?
A5. If you live within 1 hour's commute of the training venue it is not necessary to book hotel accommodation for the duration of the course. However you need to allow plenty of time to complete evening homework and consolidate your learning. For ELCAS delegates HMS Collingwood is very close.
Q6. Are food costs part of the course cost?
A6. No. ELCAS do not pay for the food element of a course.
Contact us: +44 (0)1489 588453, email mail@ipsofacto.uk.com
Alternatively, full details can be found by visiting the Enhanced Learning Credits Administration Services page.