Enhanced Learning Credits | ELCAS
ELCAS Funded Project Management Qualifications for Resettlement
---
Step 1 – choose
Single or Combination Qualifications
Step 2 – choose
Live Online or Standard Classroom
Step 3 – choose
Course Title(s) and Course date(s)
Step 4 – contact us to check availability and reserve a place
---
Combine courses with £2000 funding
Massive Savings
APM Project Fundaments Qualification (PFQ)
APM Project Management Qualification (PMQ)

APM Project Fundaments Qualification (PFQ)
PRINCE2® Foundation (P2F) + PRINCE2 Practitioner (P2P)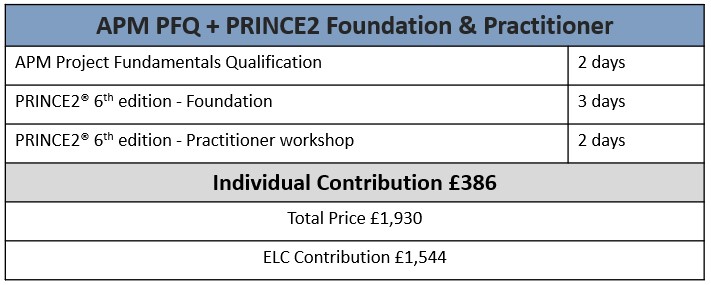 PRINCE2 Foundation (P2F) + PRINCE2 Practitioner (P2P)
APM Project Management Qualification (PMQ)
APM Project Fundaments Qualification (PFQ)
AgilePM® Foundation (AgF) + AgilePM Practitioner (AgP)
APM Project Management Qualification (PMQ)
AgilePM® Foundation (AgF) + AgilePM Practitioner (AgP)
AgilePM® Foundation (AgF) + AgilePM Practitioner (AgP)
PRINCE2® Foundation + PRINCE2 Practitioner
Individual Contribution includes your 20% minimum contribution + handbooks and course materials not included in ELCAS funding.
---
Single courses with £2000 funding
APM Project Fundaments Qualification (PFQ)

APM Project Management Qualification (PMQ)

PRINCE2 Foundation (P2F) + PRINCE2 Practitioner (P2P)

AgilePM Foundation (AgF) + AgilePM Practitioner (AgP)
---
Find us on ELCAS
Search for provider name: IPSO FACTO
Link to IPSO FACTO details
---
Online Testimonials
---
Contact us
Reserve a place on our project management course(s) and then complete your ELCAS paperwork.
---
More contact details
Contact your Educational Staff, or the ELCAS Helpline 0845 300 5179.
If you've left the Services, go to the 'Service Leavers' page of the ELCAS website or contact your Single Service Representative (SSR)
---
Useful ELCAS Resources
The following information is found on the ELCAS website. If you have any questions please don't hesitate to contact us, your SSR, ELCAS or Education Staff.
Includes Single Service Representative (SSR) contact details
Downloads include:
Claim form ELC only
New Employment model
Non-Continuous Service form
Topics include:
Applying
Claiming
Finding a provider
Downloads include:
Cancellation of installment request form
Cancellation procedure
Reinstatement of Installment request form
Downloads include:
Claim procedure flowchart
JSP 822
---
Contact us: +44 (0)1489 588453, email mail@ipsofacto.uk.com
Alternatively, full details can be found by visiting the Enhanced Learning Credits Administration Services page.
Discounts